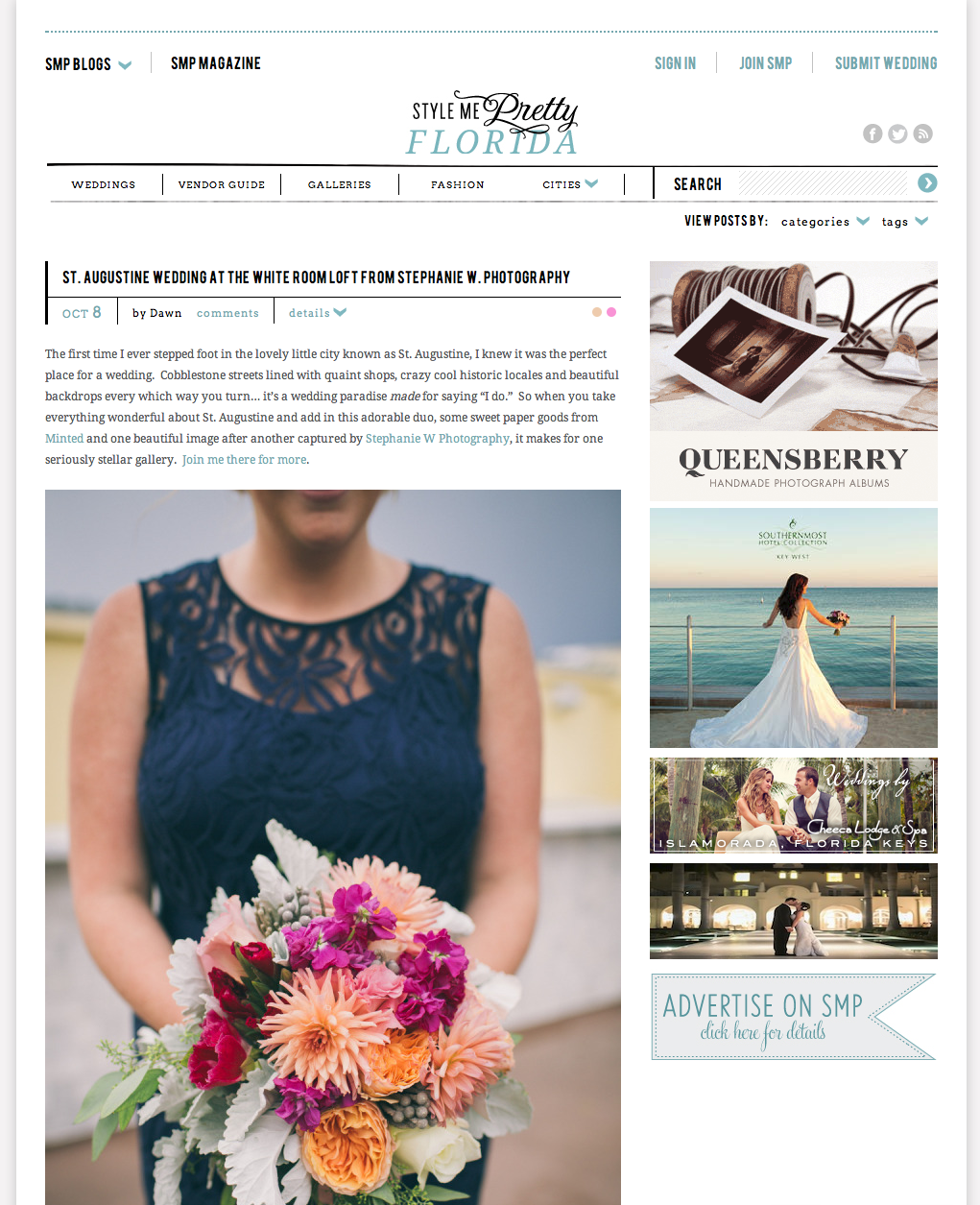 Style Me Pretty Florida | Laura + Scott's White Room Wedding | Published
I absolutely love Style Me Pretty and so getting Laura + Scott's wedding published on their blog was amazing. Their wedding was an amazing celebration of their love with such a beautiful backdrop and details. Laura and I did a little write up to submit with their photos all about their day that I'll share with you here. You can also check out the post in it's entirety HERE.
From Stephanie W. Photography… Laura and Scott's wedding day may have been rainy at some points but that didn't damper the festivities, instead it added a feel of intimacy. Some of my favorite details of their day include: getting caught in the rain during our first look, Laura running through the rain without shoes on and Scott holding her dress and the umbrella for her. I couldn't get enough of her stunning florals and the absolutely delicious, as well as beautiful, cake. I absolutely loved the DIY detail of the messages to them on their future anniversaries. Laura and Scott's big day will always have a special spot in my heart as it's also the day I turned 30-years-old. It was an amazing feeling knowing I am doing the one thing I'm meant to do on an important milestone in my life.

From the Bride… When Scott and I got engaged we knew right away we wanted to have a destination wedding. We wanted our wedding to be an intimate, fun, and romantic celebration of our ten year relationship. Our family and friends live all over the country and we are not able to get together very often. So it was fantastic to be surrounded by all of our closest family and friends to celebrate at such a charming venue like The White Room Loft and Rooftop in St. Augustine.

Even though it was a destination wedding, I was glad I was able to incorporate a few DIY items. Scott and I love to watch golf together. So we had guests sit at tables named after our favorite golfers. Also, we wanted to have a unique way for guests to sign a "guestbook." So we had our guests write us a little love note to read on future anniversaries. I don't know how we are going to wait until year three to read any of them, but maybe we will sneak a peek at year one. We wanted our family to be part of our wedding as much as possible. Instead of having our DJ introduce us before our first dance we had two of my little sisters introduce us and the bridal party. It was so fun!

I was crossing my fingers that the afternoon Florida rain would skip over us on our wedding day. But the rain on our wedding day made for some incredible memories. While we were taking our "first look" photos in the streets of St. Augustine it started POURING down rain! We ran for cover and ended up in a charming art gallery with the nicest owner. She even let us borrow her umbrella! There was no sign of the rain ending anytime soon, so I kicked off my heels and we made a run for it. With no fear of getting wet my photographer took some of my favorite photos.

The entire day was so beautiful! Our favorite moment was the ceremony. We had one of our best friends marry us. It was so incredible to have him standing right next to us as we celebrated such an amazing moment in our lives. Words cannot express how beautiful and heartfelt he made our ceremony. We are truly lucky to have such fantastic family and friends as a part of our lives.