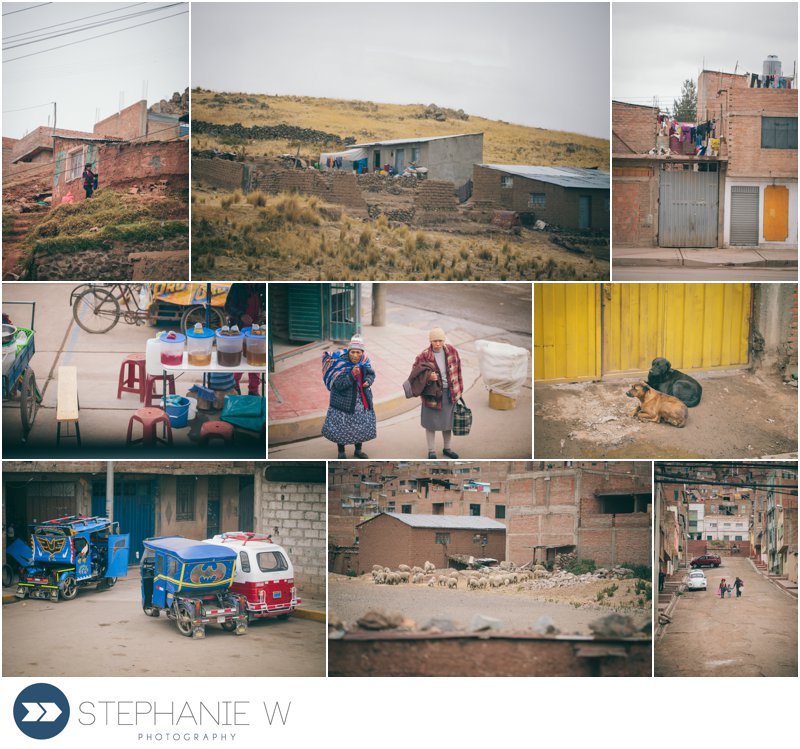 So everyone has been asking to see the photos from our trip to Peru and I figured the best way to show everyone (who is interested in seeing them) is with a post on the new blog!
Scott and I love to travel so we made a deal, for our major birthday milestones we get to choose where in the world we'd like to vacation at to celebrate. So this year I turned 30 and wanted to explore somewhere in South America. I did my research and decided on Peru.
Many months of planning later, we began our journey on August 18th with a flight from Jax to Miami then on to Lima, the capital of Peru. We arrived late at night and hopped in a taxi and headed to the Sheraton in downtown Lima. The first part of out trip was three days in Lima with no agenda. We woke up the first day to a haze over the entire city which is the typical weather for the city. Most of the images you see are from our balcony view on the 18th floor.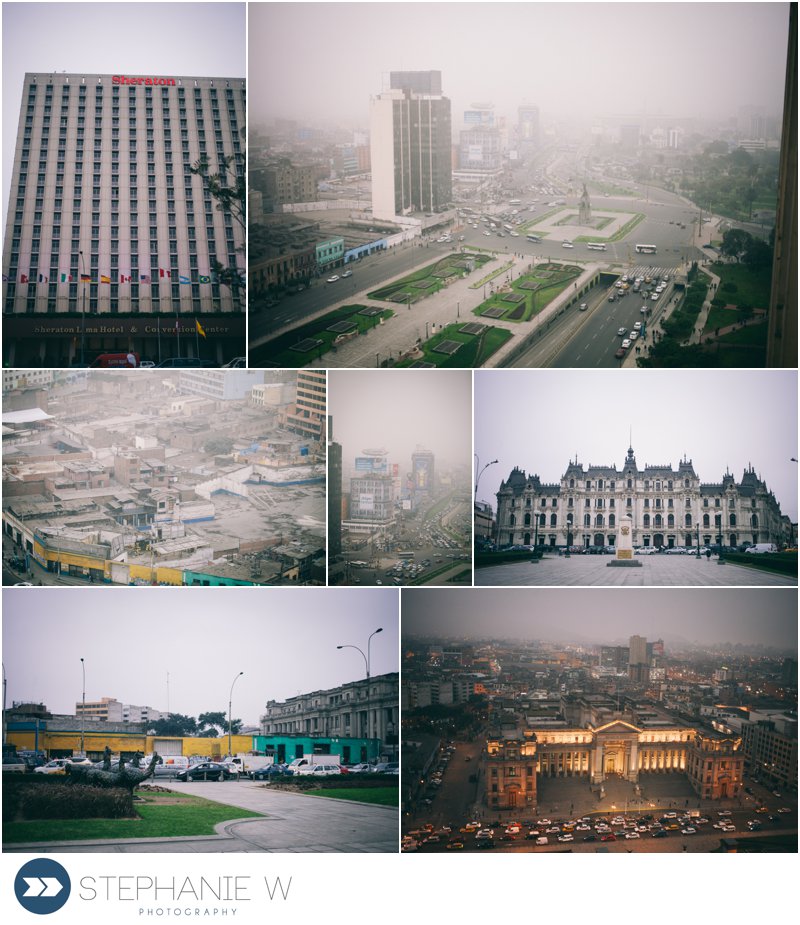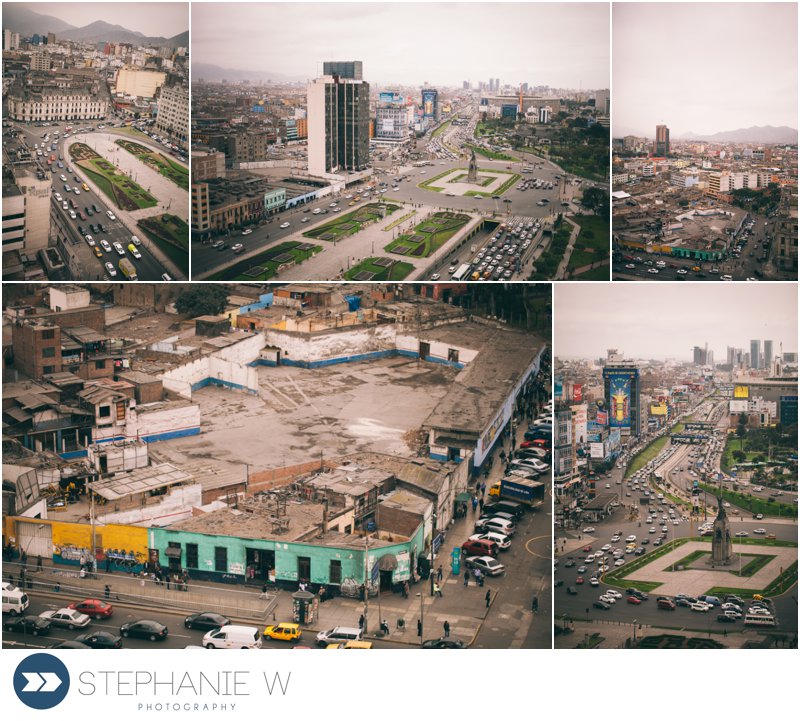 For the first day we decided to just start walking the downtown streets towards the Plaza de Armas in the historic center and check out the amazing palaces, cathedrals and museums that all had stunning ornate details. The two you see below are of the Archbishop's Palace of Lima and the Government Palace which was gated and guarded.
On a side note the driving everywhere in Peru is crazy…everyone honks constantly and it's just a mass of cars cutting each other off.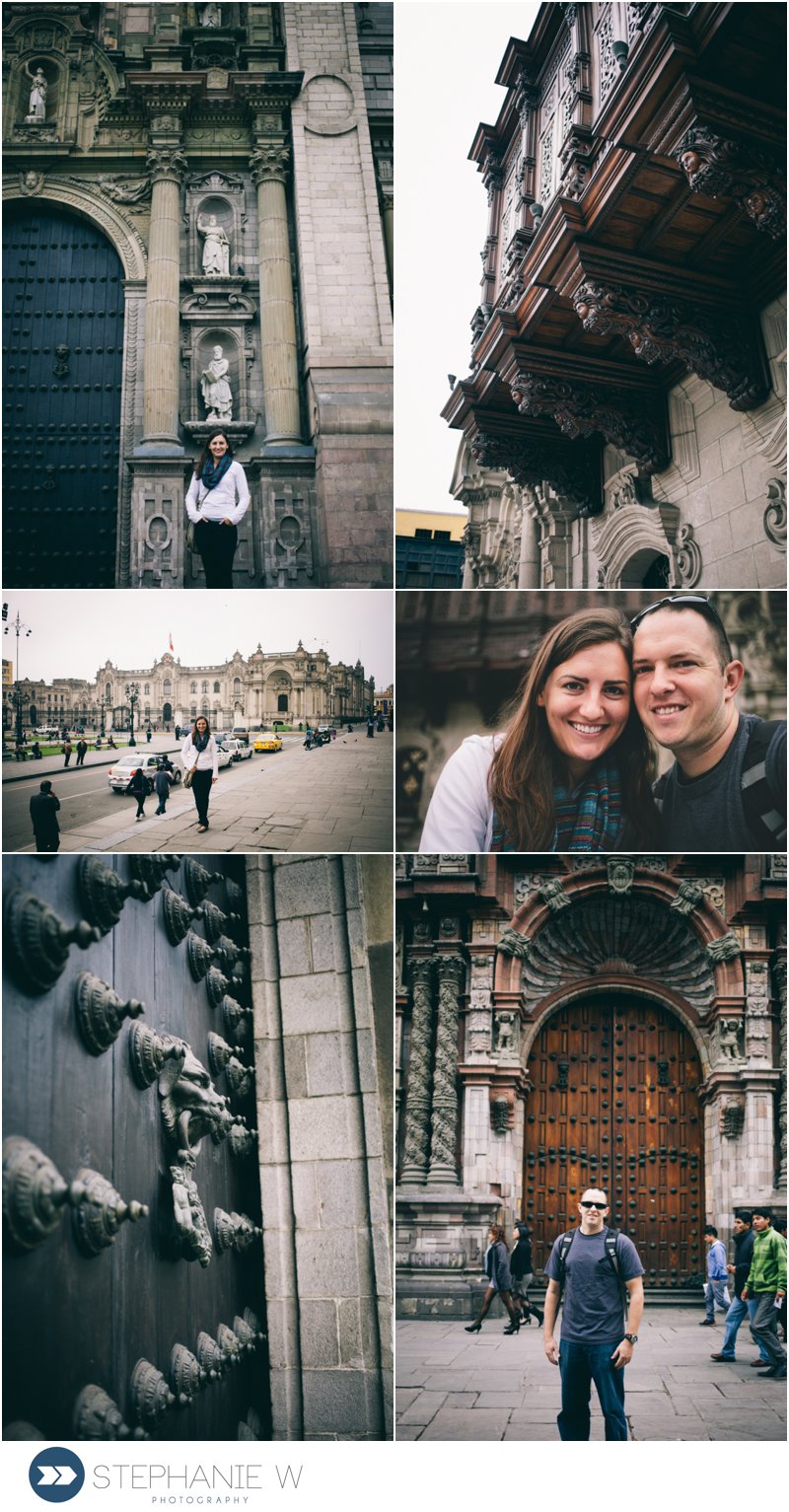 Some random things you see along the streets as you walk around. You'll note the dog just sleeping in the middle of the sidewalk which was very common with all the stray dogs.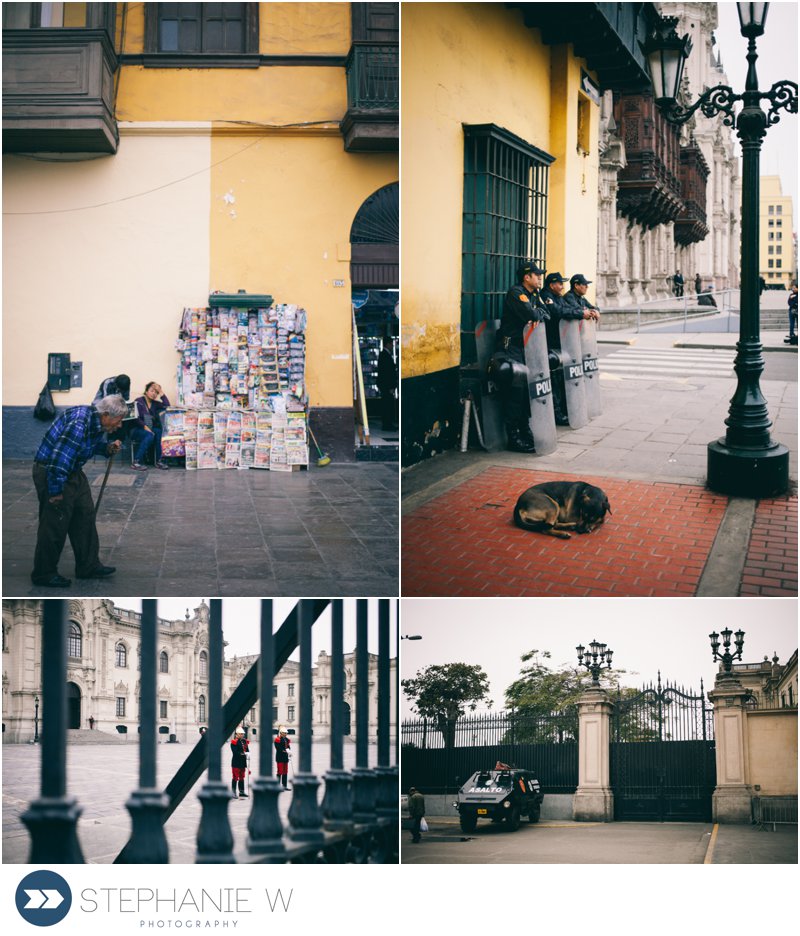 We stopped at a random spot to grab a bite to eat and a cerveza. This is where we found out about canchita (basically a cooked but unpopped popcorn) which is super delish. You'll note the name on the glass "Cusquena" which is the premium beer of Peru. We continued our walk around the downtown streets of Lima and noticed a trend that shopping was broken down into districts. In one area we found store front after store front of dentist chairs, another area selling prescription glasses and the last area strickly had printing presses working. By the end of the day I started to feel stuffed up and could feel a cold coming on.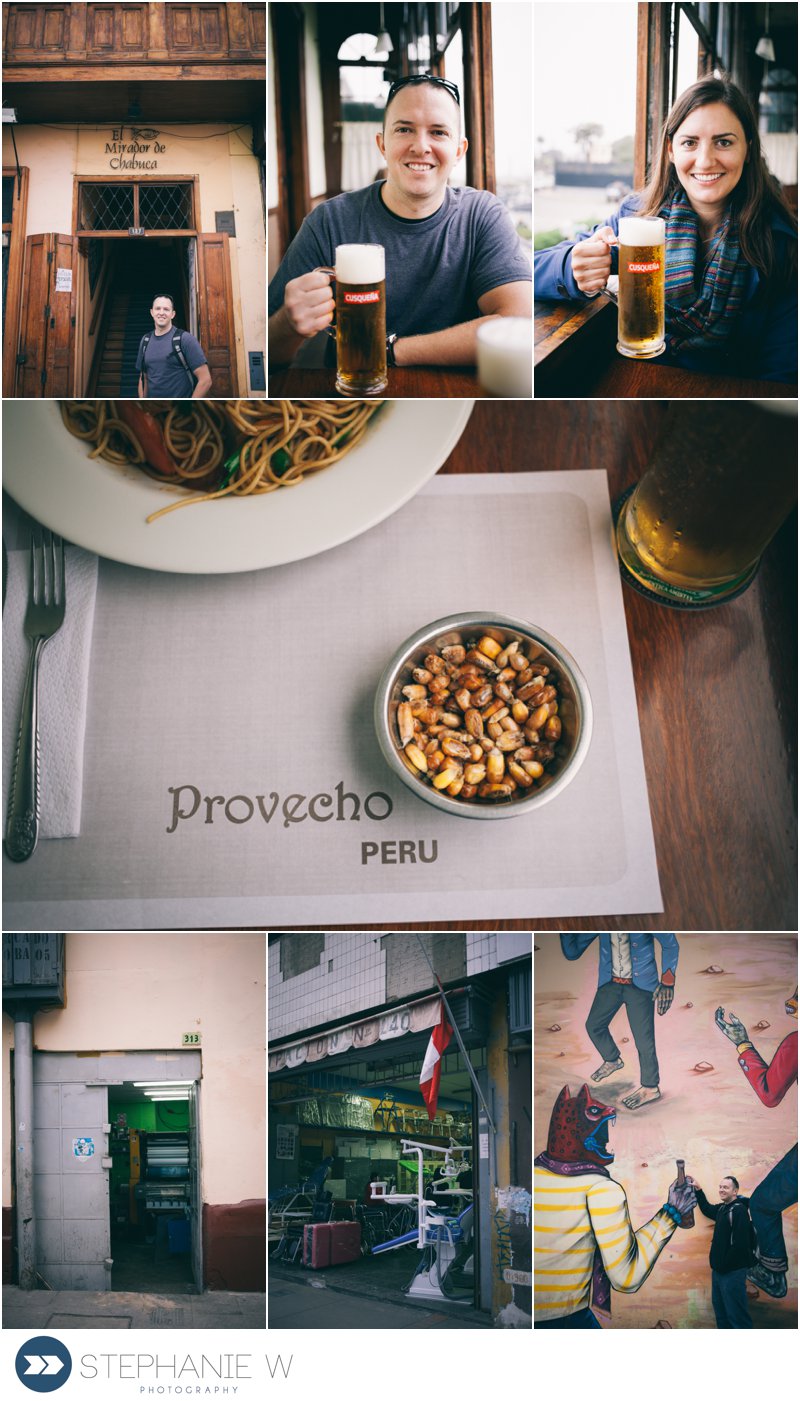 Day two- I bundled up and we took our bartender's advice on what to visit and checked out Miraflores District which was a short taxi ride just south of Lima. It turned out to be such a beautiful place with high cliffs and amazing views of the coast. In the sky you could see paragliders and below you could see surfers getting ready to paddle out. Walking aimlessly we stopped in for a beer at a local restaurant and did tons more walking checking out all the areas. For dinner we returned to the Larcomar (a shopping area at the top of the cliffs) and ate dinner at Mangos, which is the top photo on the right with the umbrellas on the patio.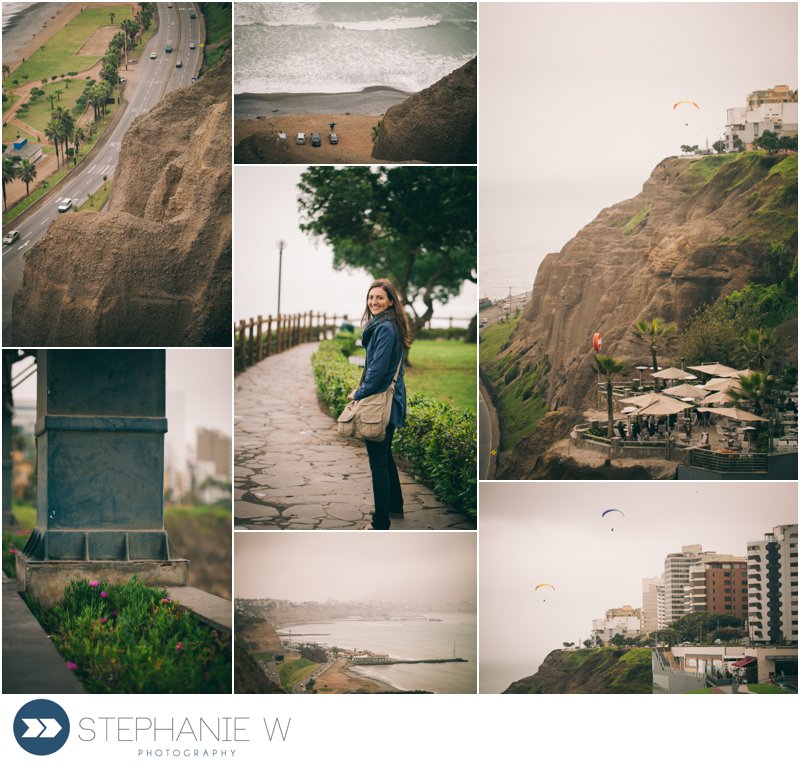 We walked along the parks placed along the tops of the cliff and decided to take a breather. At one spot we noticed these large aloe plants littered with people's name etched into the leaves. I just had to partake and put our names onto one of the empty leaves. After walking for so long we grabbed some snacks at Plaza Vea which is Peru's Publix supermarket. We were sure to grab an inca cola which is the "Coca-Cola" of Peru but it taste a bit more like bubblegum and is neon yellow.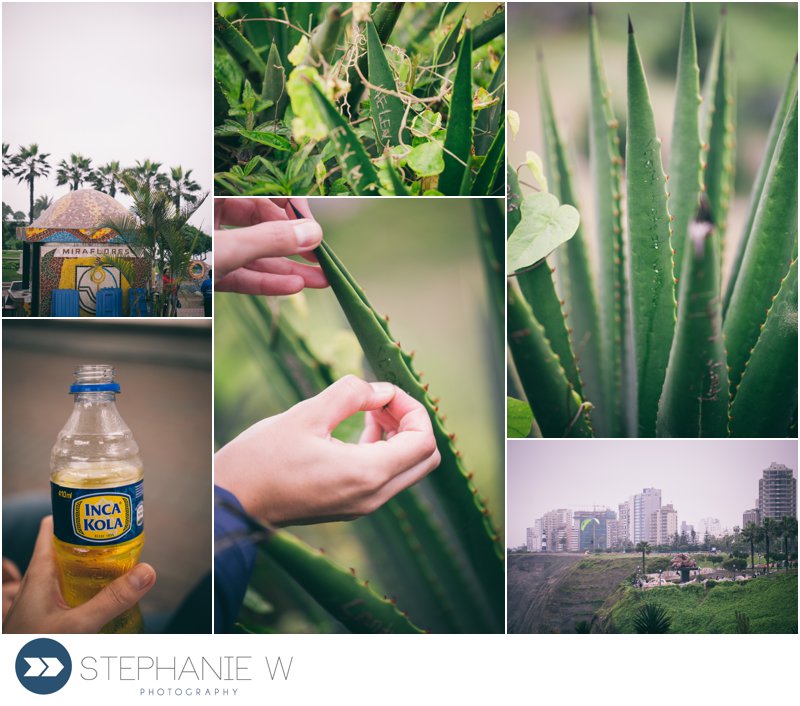 On day 3 we went to visit the pre-columbian temple site, Huaca Pucllana. The temple dates back to AD400 and is made of adobe. Tombs have been discovered completely intact with remains of people sacrificed as well as other ceremonial offerings. The site is still undergoing excavations and restoration but was pretty amazing to see such a site so close to urban dwellings.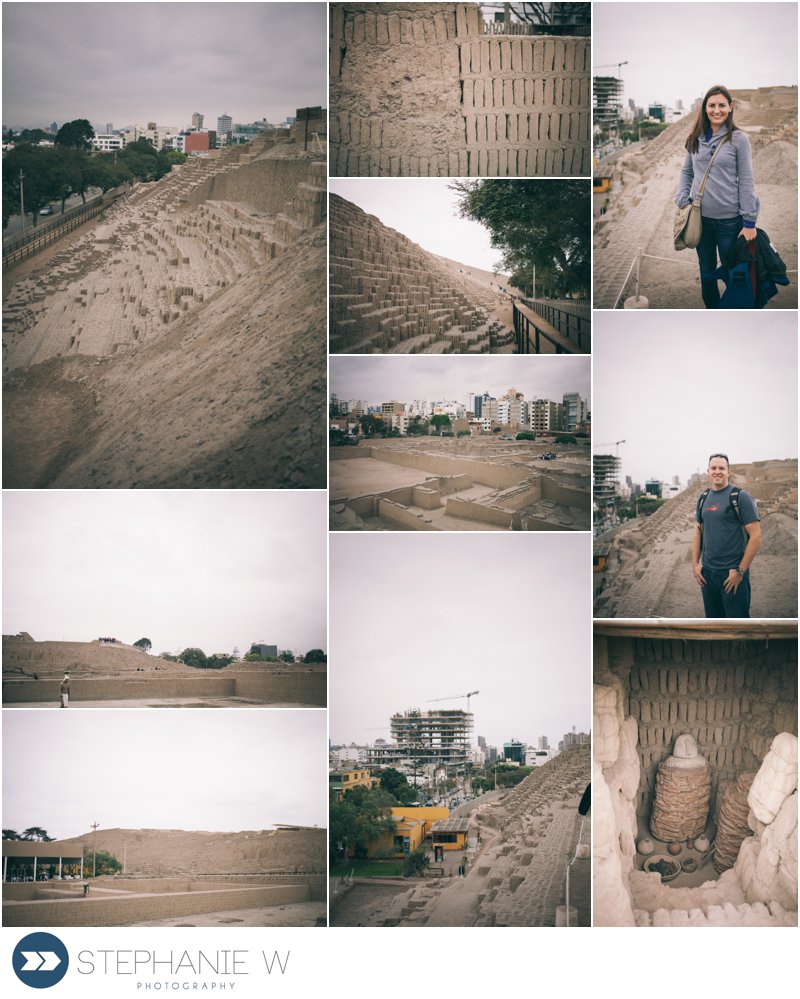 The tour guide showed us through a garden with quinoa growing and a small coca plant. Nearby stood a small pen with Alpacas hanging out. Post tour we went to a restaurant recommended to us to try some of the best gelato with some unique peruvian flavors.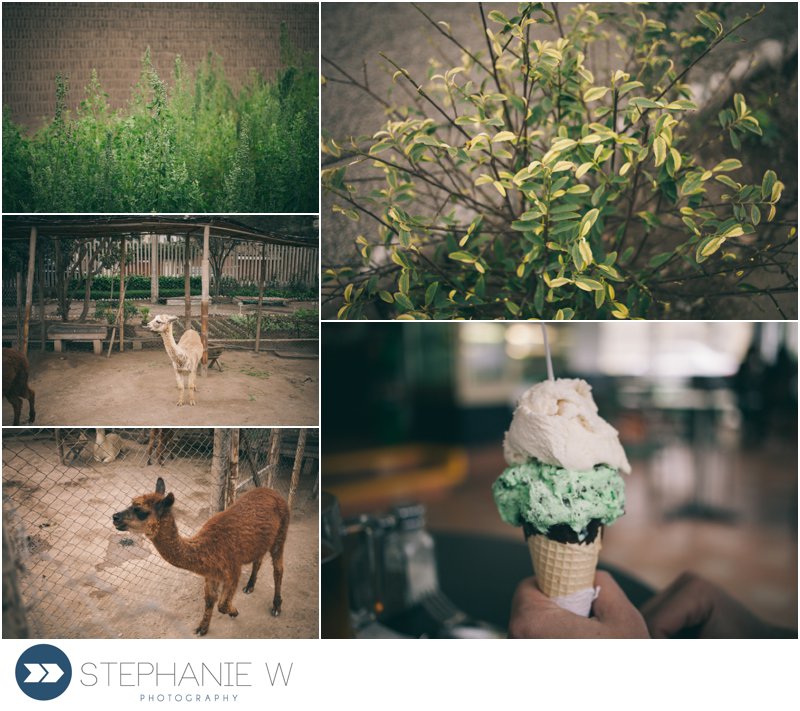 To finish our day off we walked from our hotel to Parque de la Reserva to check out El Circuito Magico del Agua (Magic Water Circuit). The park consists over a dozen illuminated fountains. One of which has a laser show in a 120 meter long fountain set to Peruvian folk music. We had a ton of fun at the last fountain where everyone could run in and out of a maze. The fountain would turn on and off randomly to allow people in/out and soak those in the wrong place at the wrong time.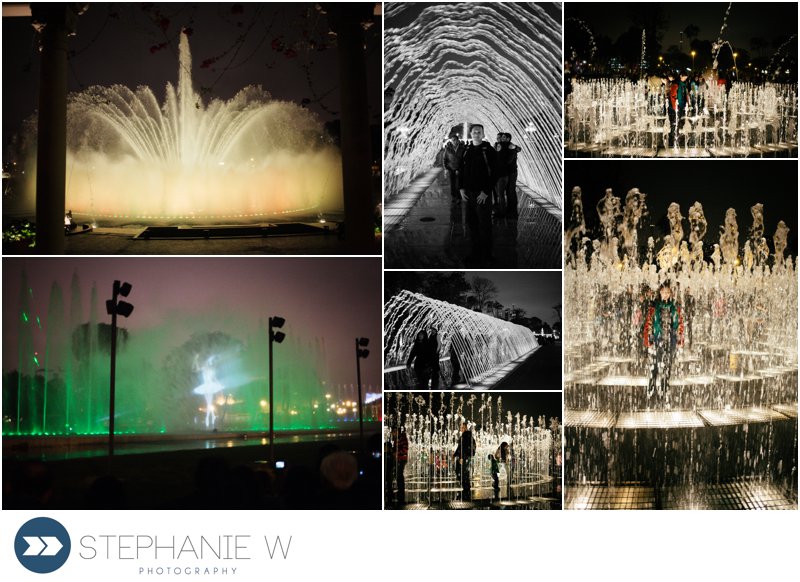 CUSCO, PERU
On day 4 of our trip we took a flight from Lima over to Cusco. The elevation in Cusco is around 3400 m (11,200 ft.) and it is the former heart of the Inca Empire. This is the recommended stop for people to acclimate to the high altitude before climbing Machu Picchu. The Inca architectural stone work of the central buildings (including our hotel) was amazingly precise and perfectly fitted.

Some women (and children) from the nearby farms travel to Cusco to come and sell their food along the streets. Most dishes at restaurants came with fries and with so many different kinds of potatoes grown around the area they tasted different every time.


TRAIN RIDE CUSCO TO AGUAS CALIENTES
The next day we took the Perurail vistadome train from the Poroy station (right outside of Cusco) to Aguas Caliente. The  trip brought us through farmland and small towns along the valleys of the Urubamba River.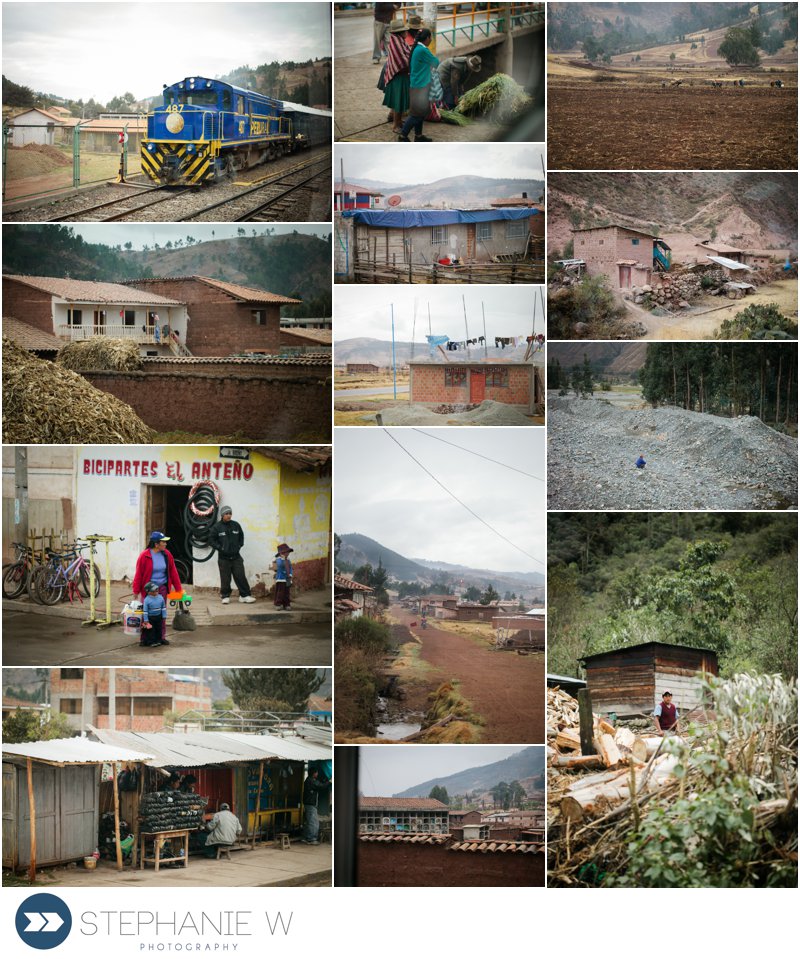 Some of my fave images of the train ride …

AGUA CALIENTES
This town is located in a deep gorge below the Machu Picchu ruins and is enclosed by towering stone cliffs and divided by a river. The area basically exists only as a tourist stop for visitors coming to check out the ruins so the prices are definitely higher. When we arrived the entire city was out of power so we just walked around checking out the scene. We spent the night at a hostel here so we could get up early to visit Machu Picchu.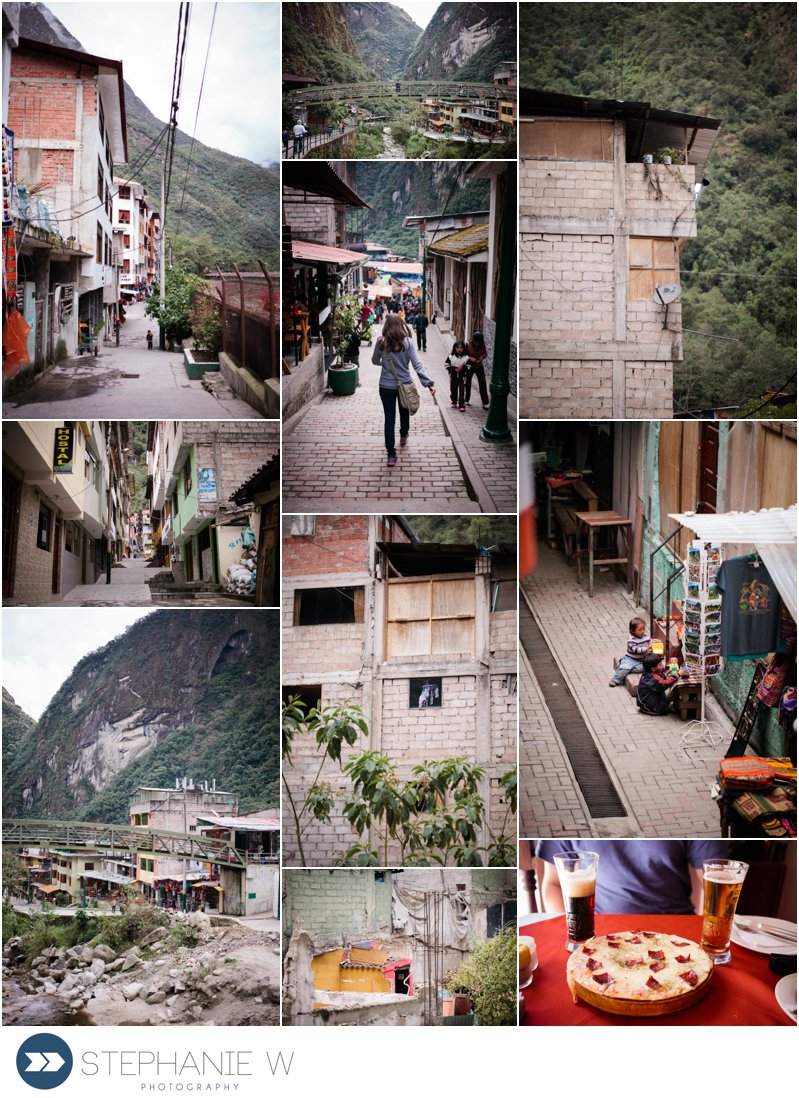 MACHU PICCHU
In the morning we woke up at 4:30am to make it to one of the first buses to the entrance to Machu Picchu. Even at that hour there was a long line we had to wait in to hop on one of the buses for the 20 minute ride up the steep zig zagging mountain road.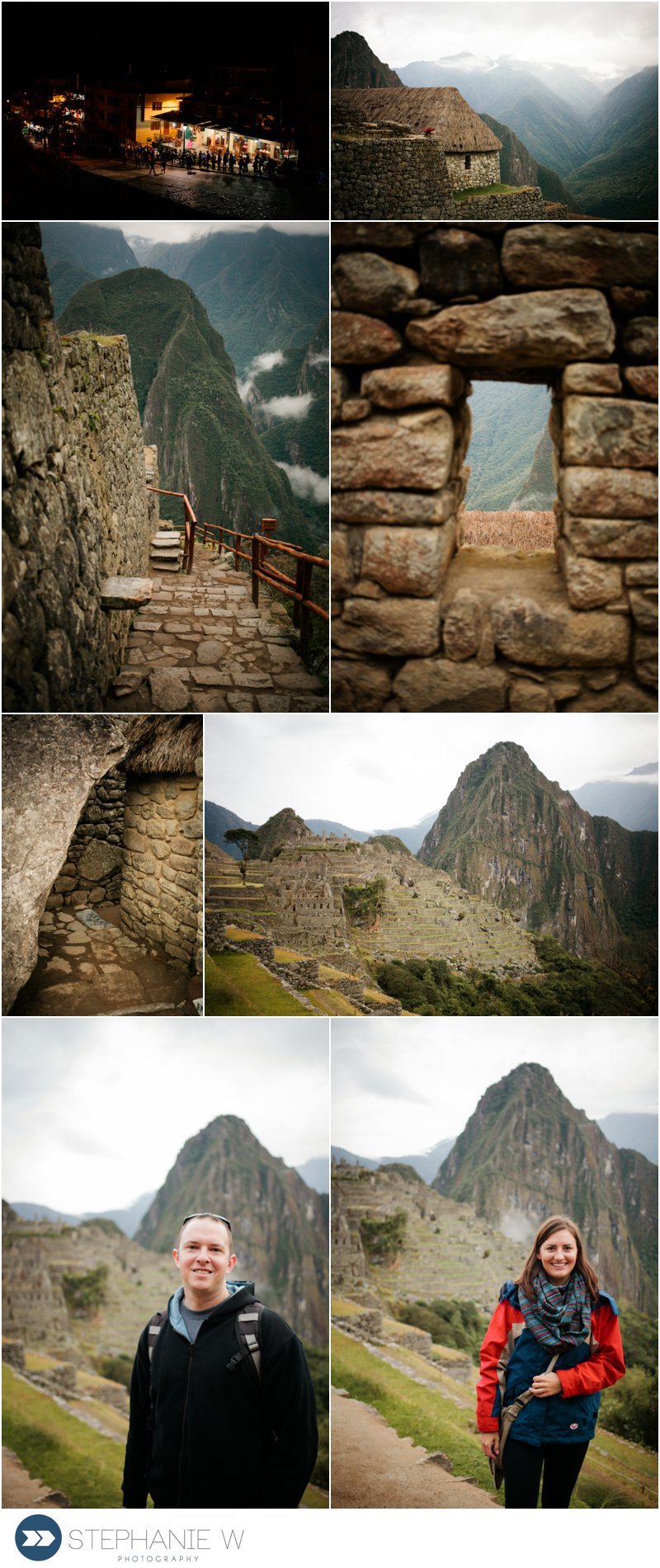 It is crazy to think that places like this are still being uncovered.  It was only a little over a hundred years ago (July 24th, 1911) that Hiram Bingham III announced the discovery of Machu Picchu to scholars and was credited for discovering the site.  Hiram was actually looking for a different archeological site called Vilcabamba and he actually died thinking that he had in fact found Vilcabamba.  There are only theories of what the site of Machu Picchu was used for and that is what makes the site so mysterious and intriguing.
The construction of Machu Picchu is so impressive it is said that in most areas the stones are so perfectly cut and placed that a blade of grass couldn't fit between the stones.  No mortar was used in the construction of the buildings.  The drainage infrastructure was one of the most remarkable secrets of Machu Picchu which is why architects claim it to be one of the best built sites found to date.
Llamas freely roamed the archaeological site. The ruins are divided into two sectors the urban sector and the agricultural sector. The Urubamba River loops around the mountain below. The hills were cut into terraces that provided farmland as well as reducing soil erosion and landslide protection.
The top right photo shows the Funerary Stone. Some historians believe that this was used as a sacrificial alter.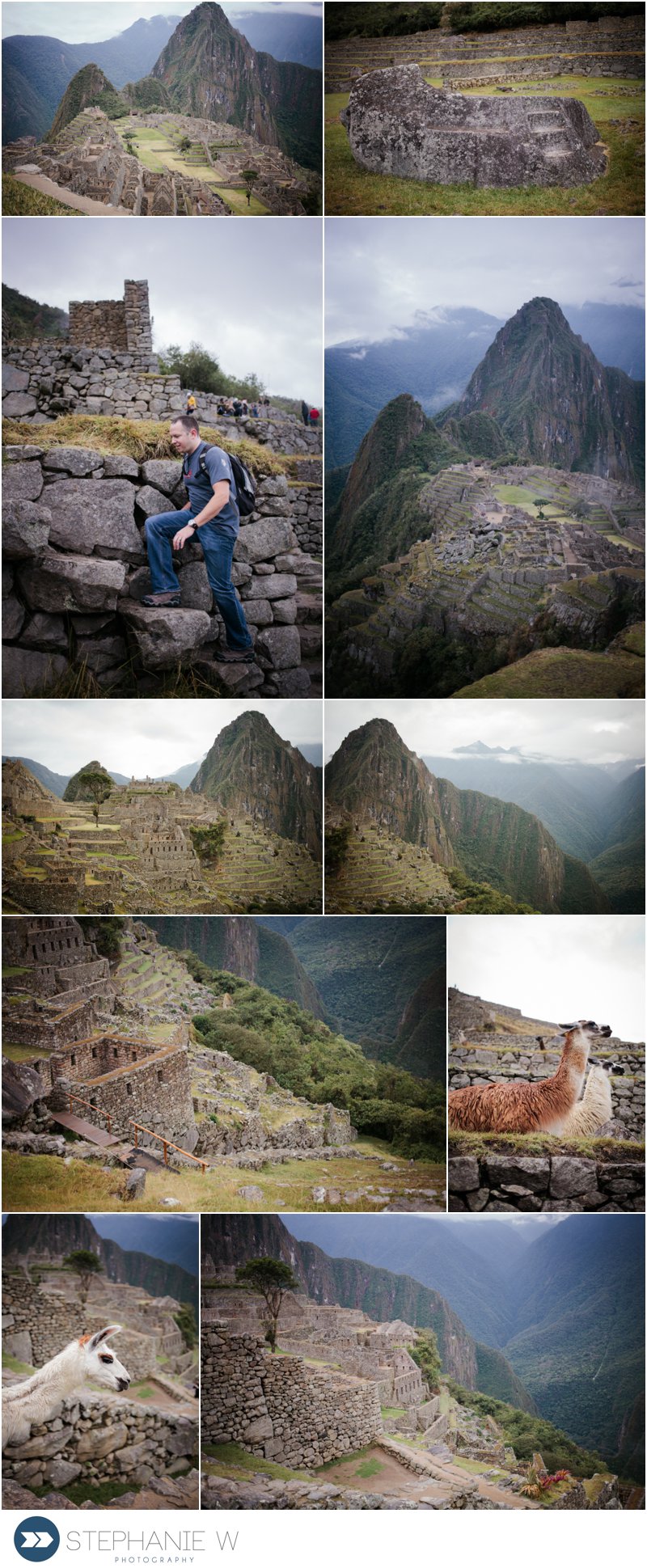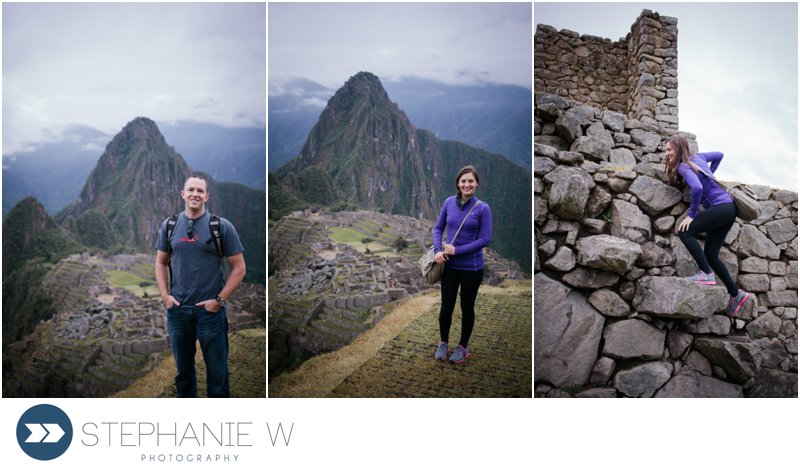 Machu Picchu has two optional climbs that you can purchase tickets for, one for Wayna Picchu and other for Montana. We had decided on Montana which boasted better views, however a longer climb which also meant less people. While climbing Montana the clouds rolled in surrounding us. The climb up the steep steps was daunting with the air being so thin. Almost every 15 steps up we had to stop to just breathe. It felt like there was 20 lbs on your chest.  It started to rain so we luckily pulled out our pocket ponchos which helps a ton but my legs, feet and hands were still soaking wet. There were times that I wanted to quit and just go back down but we finally made it to the top. 

The very top of Montana luckily had a little hut so we could take a break from the rain for a little. The clouds never lifted and the rain never let up so we made our way back down. No amazing view for us!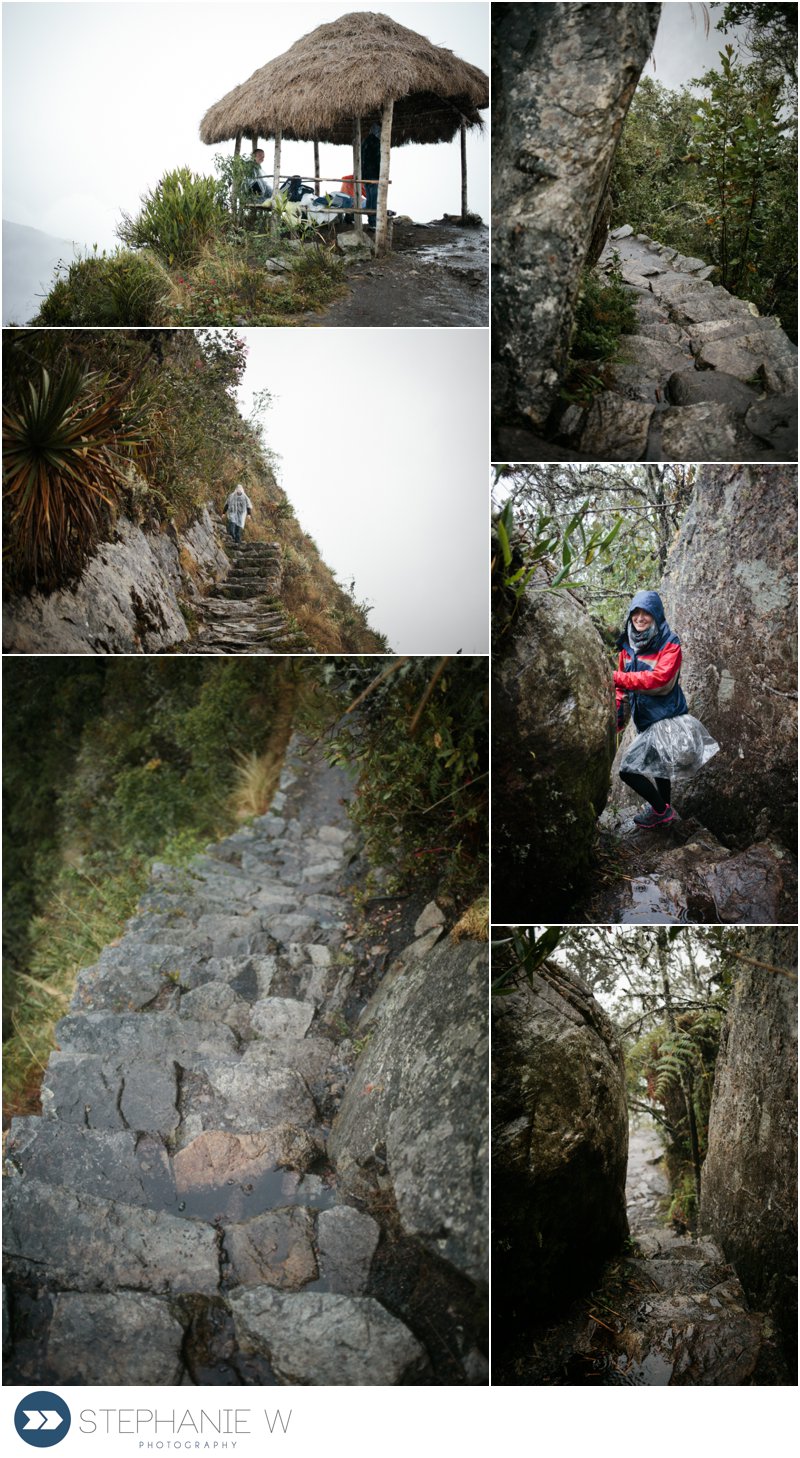 Once we got back to the bottom I was so tired and cranky from still be sick and being soaking wet we toured around the ruins for only 10 more minutes and left to eat and finally get dry.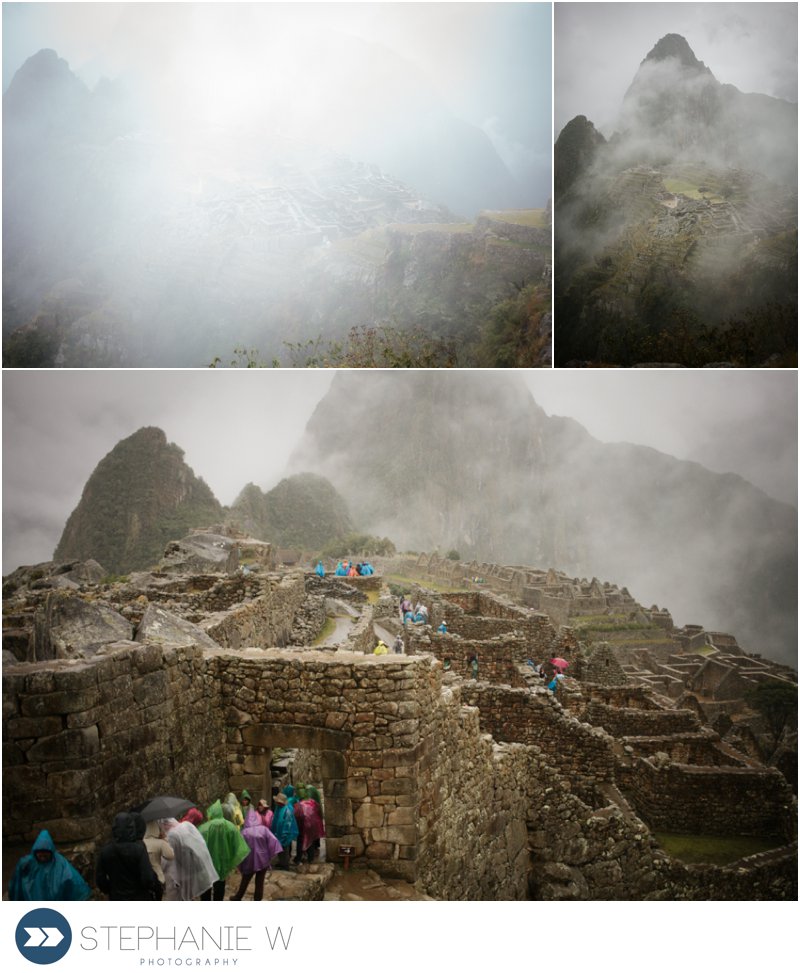 URUMBAMBA, PERU
In the afternoon after Machu Picchu we took the Perurail train ride to Ollantaytambo and then a taxi ride to Urumbamba to stay the night at Tambo del Inka. Definitely the nicest place I have ever stayed at. It was much needed after the soaking wet hike, early wake up call and hostel we slept at the night before. Stunning is putting it lightly…we had a walk in closet and doorbell to our room.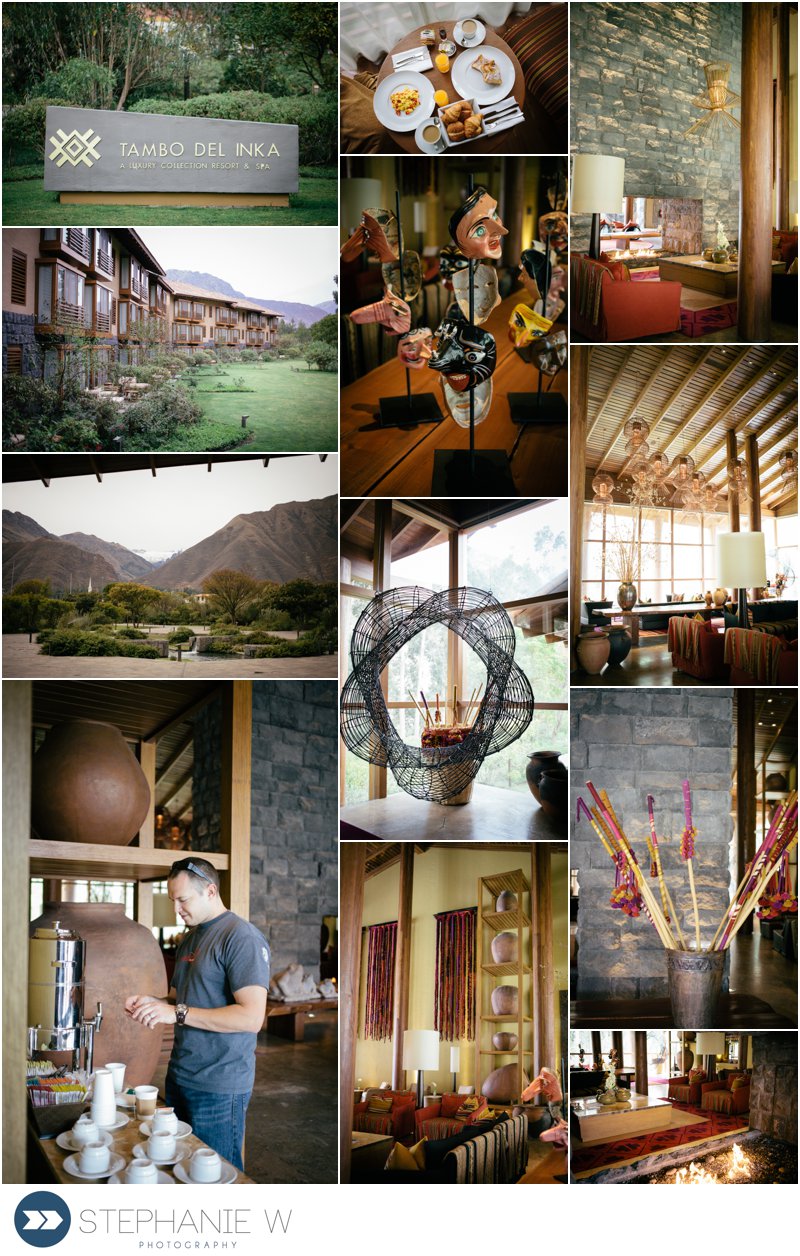 Once we left the resort in Urumbamba we decided to walk around the town to check it out and find a taxi from there. We got to see some of the most fascinating looks at life in Peru. The food market we stumbled upon was so cool with all the freshest produce (and meat if you look closely at the top right photo).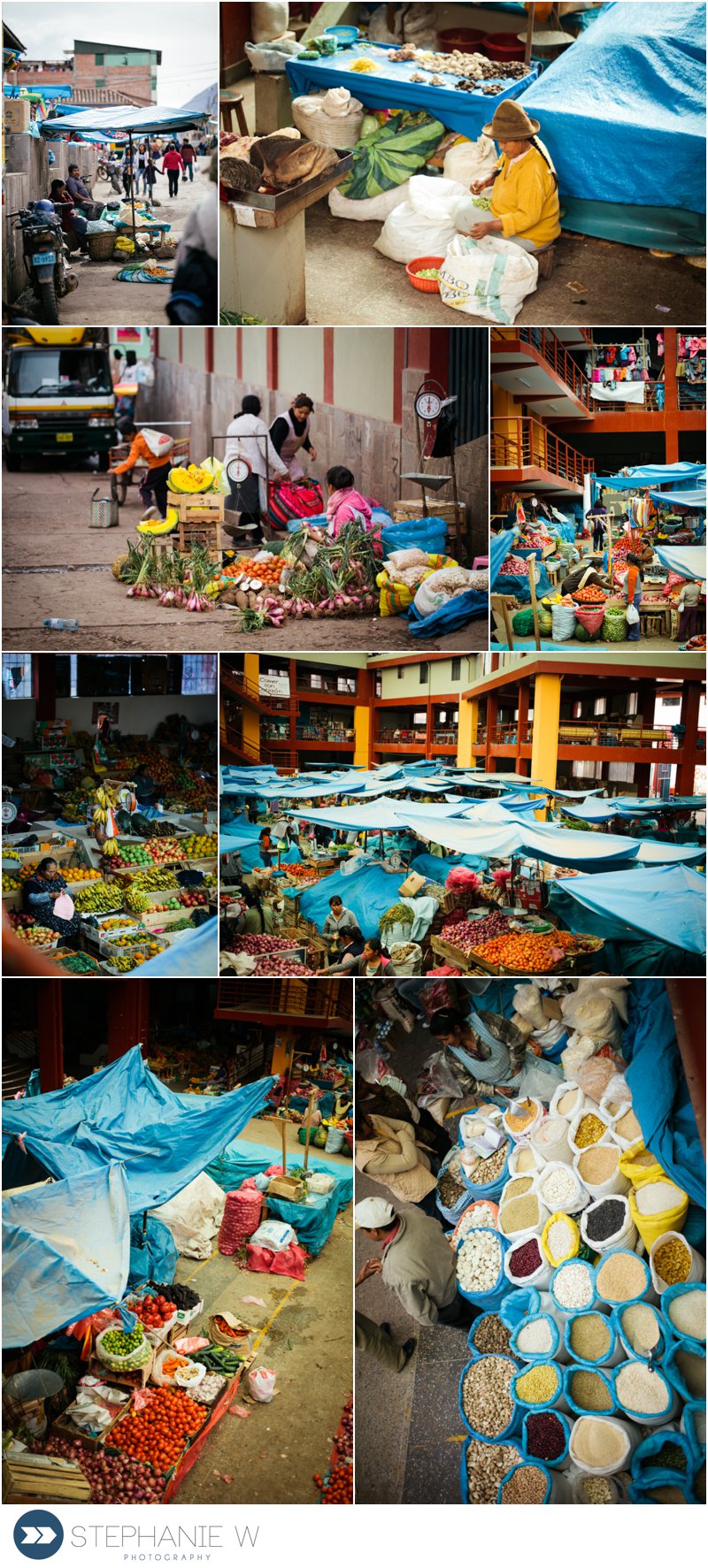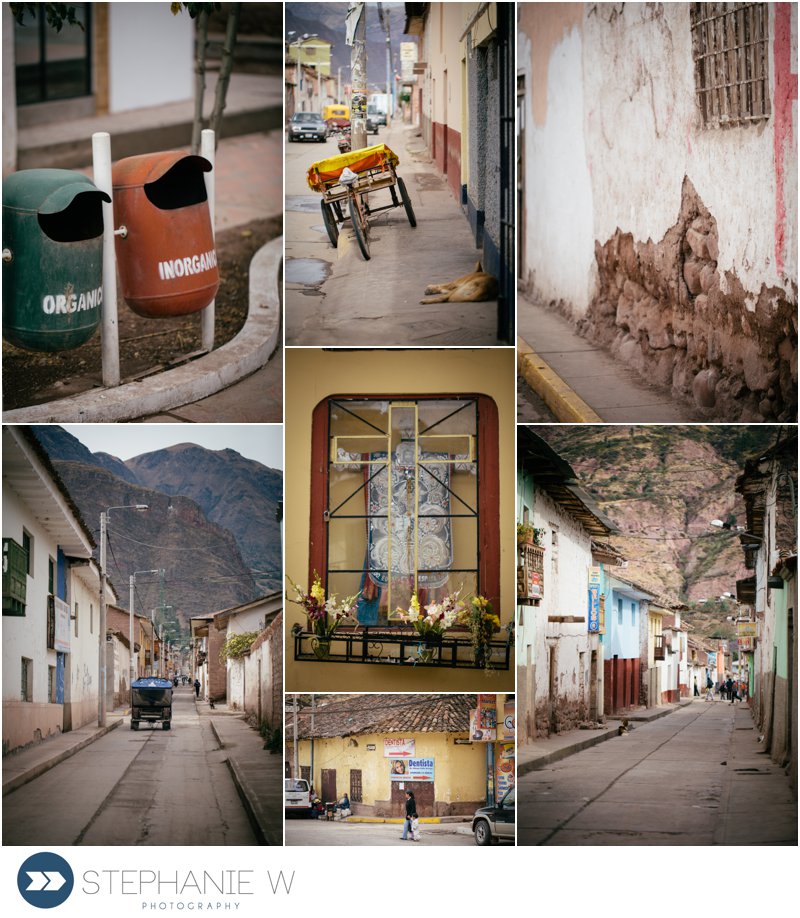 Yes that's right a man in the street carrying around a huge slab of meat over his shoulder. In the photo below that …a group of guys watching as two men are playing each other in chess.
After checking out the town we started looking for a taxi and stumbled upon the bus station. We paid 8 soles each which is under $3 each to go about 50 miles. This was the cheapest transportation we had taken yet and we were traveling with the locals.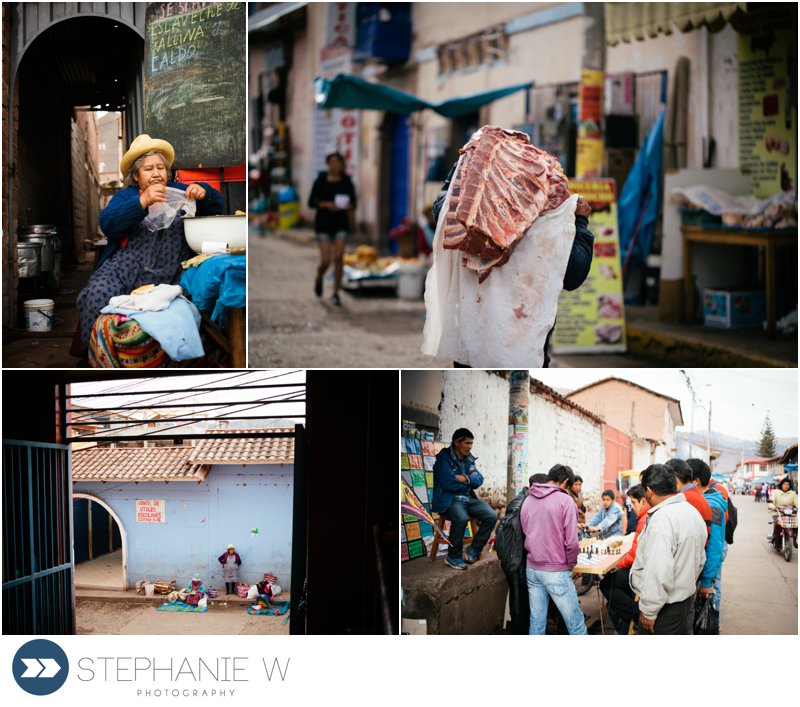 CUSCO, PERU
We got back into Cusco around sunset and walked the streets a bit before checking back into the Palacio del Inka. These are some of the shots around the Plaza de Armas and the Cathedral of Santo Domingo. The bottom right photos is the entrance to our hotel.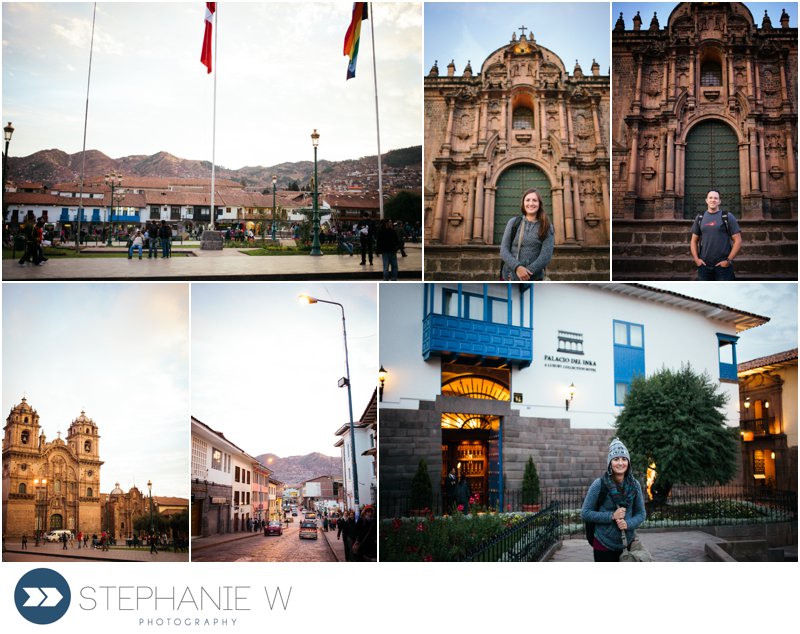 PALACIO DEL INKA, CUSCO, PERU
Talk about another amazing hotel with stunning detailed work and two beautiful courtyards. The bowl you see contains coca leaves for you to use like chewing tobacco to help with altitude sickness. The hotel is a historic building with 17th century walls and decorated with great Peruvian touches.
TRIP TO PUNO, PERU
The next day we took the Wonder Peru bus from Cusco to Puno. Along the way there were planned stops where our tour guide told us about Peru's history and showed us some important sights.
Our first stop was at Andahuaylillas San Pedro Apostol church aka "Sistine Chapel of America" (top right photo). Pretty normal looking from the outside but inside (where photography isn't allowed) it contains amazing murals, wood carvings draped with gold leafing and Andean baroque design. It is surprisingly extravagant church.
The second stop was Raqchi – Temple of Wiracocha and one of the holiest shrines of the Inca Empire. Twenty-two columns made of stone blocks help support the largest-known Inca roof but most was destroyed by the Spanish.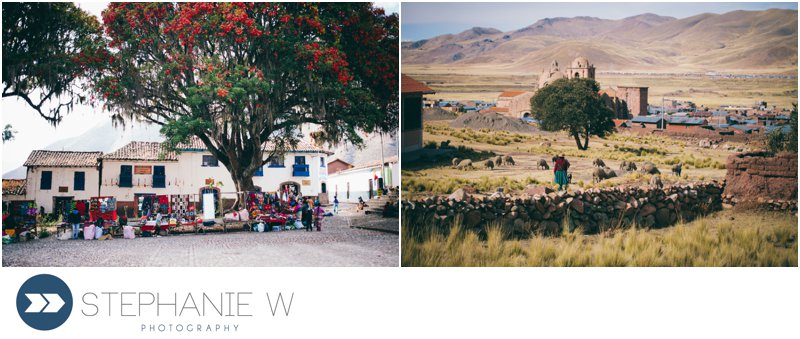 After lunch the bus stopped at Raya Pass (Abra La Raya) for a short stretch of the legs and some photos. On to Pukara and the Museo Alcra Pukara which we got to see some amazing archaeological finds from the area.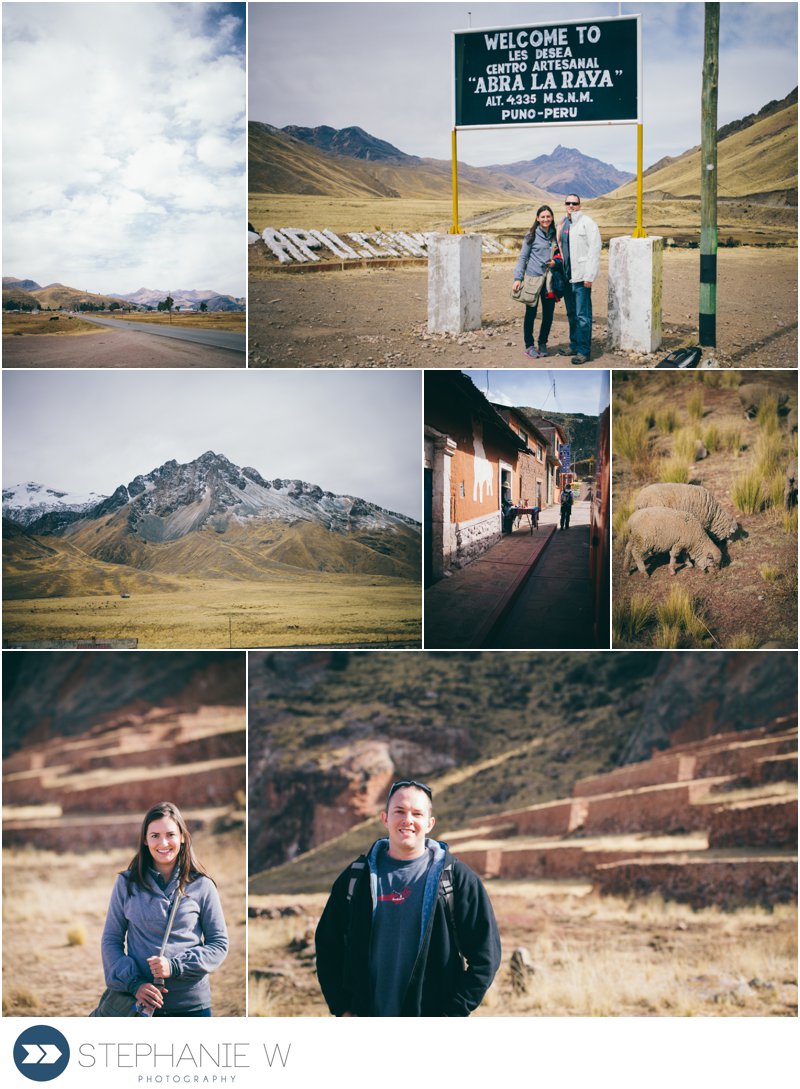 PUNO, PERU
Our final destination of the bus trip Puno, located on Lake Titicaca. That night we stayed in a hotel with an awesome night view of the Cathedral. After we checked in we walked over to Mojsa for an amazing stone fire pizza that we got to watch the chef prepare and cook from our table.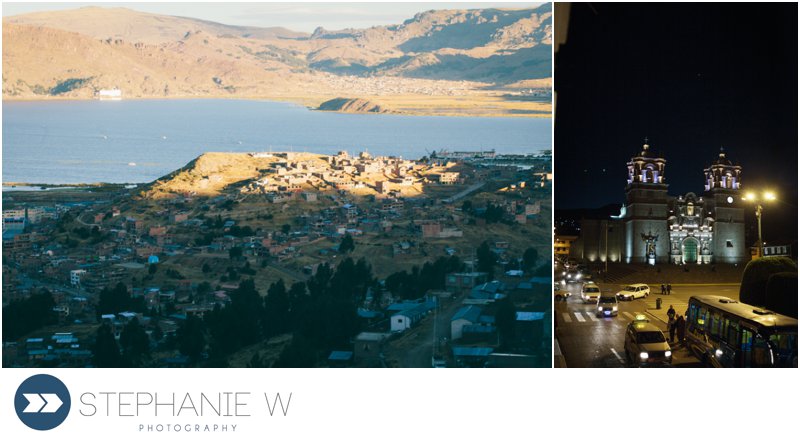 LAKE TITICACA, PERU
After a buffet breakfast from the restaurant attached to our hotel a driver picked us up to bring us to the meeting spot for the private boat to pick us up for our homestay at Uros Khantati.
Lake Titicaca is the world's highest navigable lake and is located between Peru and Bolivia. The Uros Islands are comprised of 50 reed islands. Each island is manmade and originally the Uros people didn't live on the lake. Centuries ago the colonization from the Incas forced the Uros people to abandon their homes on land and that's when they established their way of life on the lake.
The islands are constructed of totora reeds that grow on the water. The islands require regular maintenance  as the lower layers of totora decompose.   The islands are about 1-2 meters thick with totora reads and then sit on the dense root of the totora plants (about 1m thick) that were originally interweaved to support the island and thus float.  The islands are anchored so they don't travel but they do drift a little. Only a few hundred people still live on the islands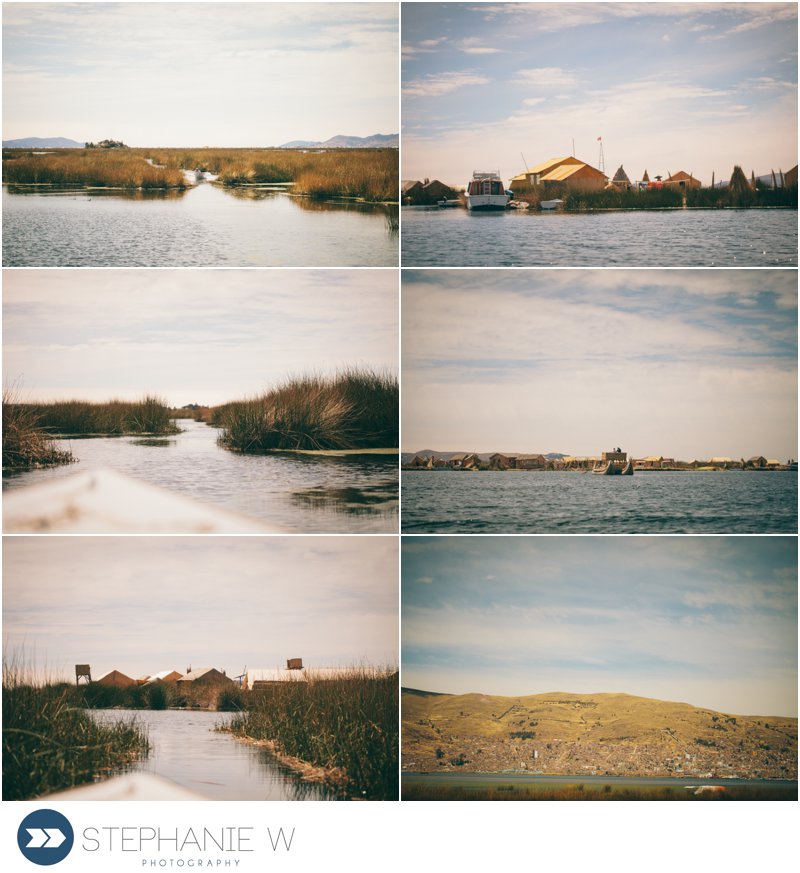 UROS KHANTATI, LAKE TITICACA, PERU
While staying here we were told about their history, their daily lives and traditions. There was a watchtower with an awesome view of the entire island. These would have been used to watch for threats so the islands could be moved if needed.

Some views of the interior of our cabin room for the night. The pottery below is what was traditionally used as their kitchen, which you can guess caused some fires being right on the reeds. There are two families that live together on this particular island and all work together on maintaining, entertaining guests and working on crafts.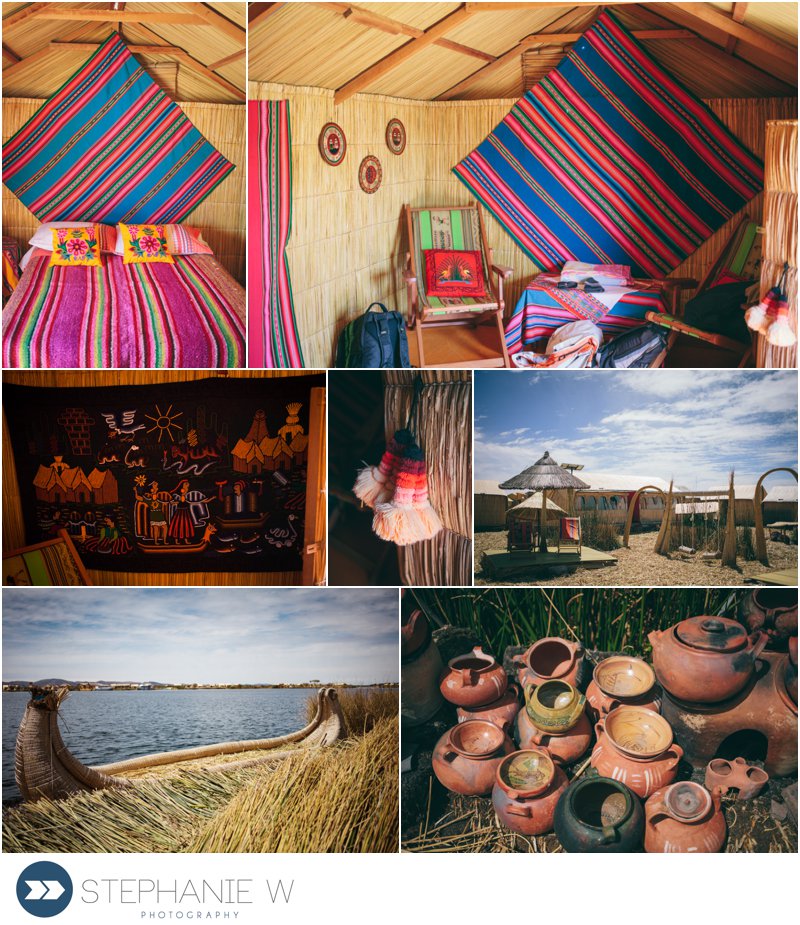 Christina brought out traditional clothing for us to put on and she even braided my hair interweaving this large heavy tassels into the braid on each side.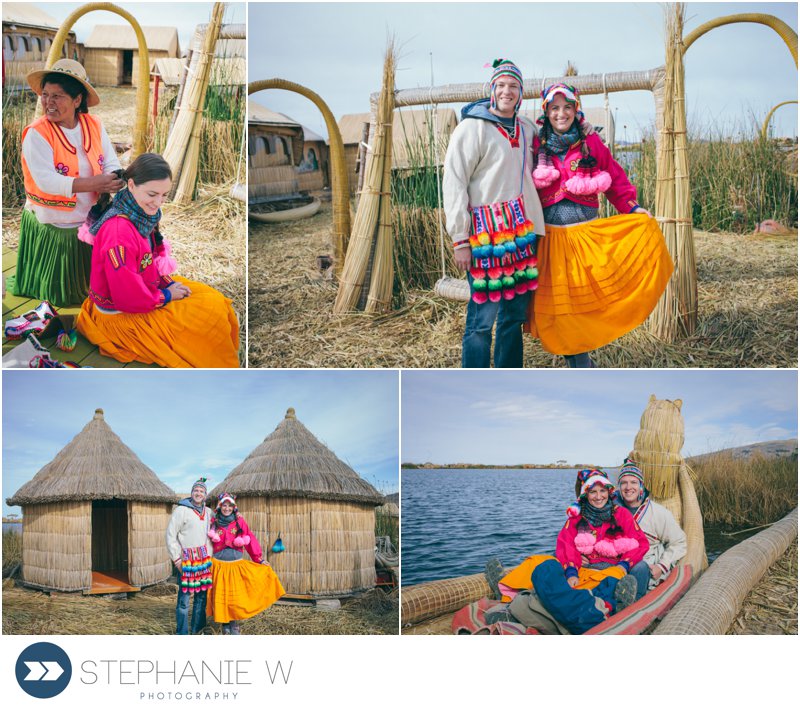 Abraham took us fishing where they had nets set out in a shallow area already and we picked up six fish. Which the cat on the island got one of them. While making our way to the net's location and back Abraham told us about the current marriage traditions, the schooling and other interesting ways of life of his people. We passed several boats of the kids paddling back home after their day at school on the mainland.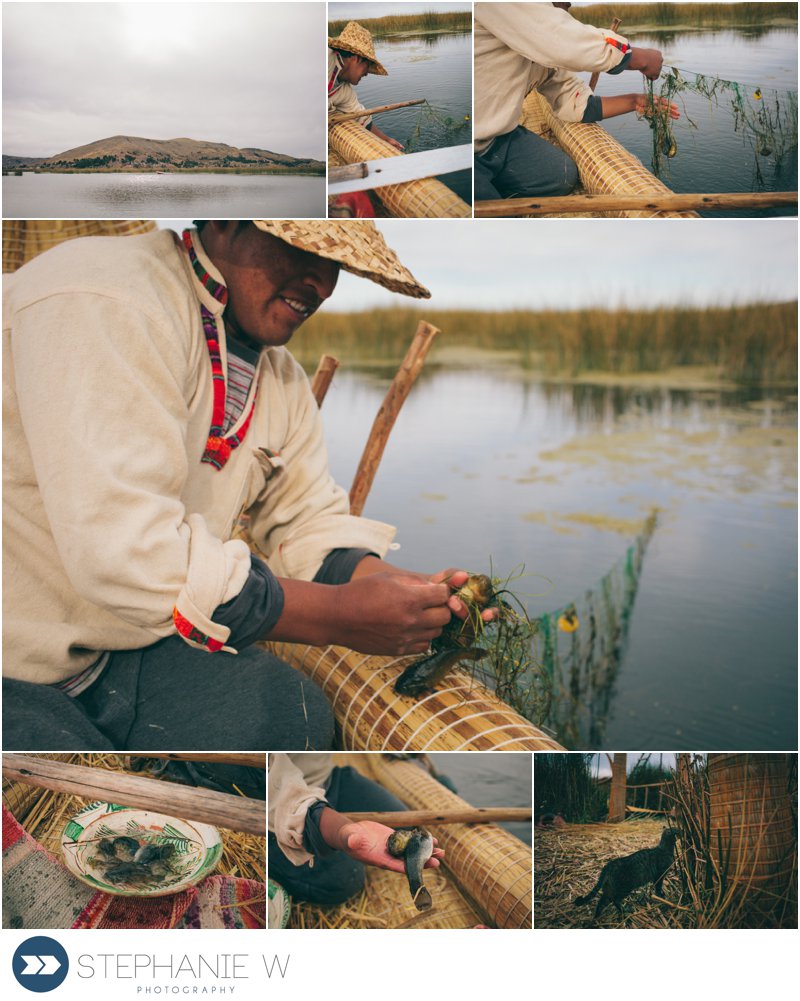 After returning from fishing we got to hear stories about their history and how they maintain the islands. Uros Khantati has a sort of mascot, the flamingo you see below in one of the middle photos which they rescued.
Dinner started with corn soup, trout and quinoa with peas and carrots for the entree and fruit for dessert. Everything was so dang delicious.
By the time we finished dinner it was completely dark out and just about time to go to bed. Without the sun the place was frigid, but they had placed multiple hot water bottles within our bed to make it nice and toasty for us. As we climbed under  the blankets I noted that there were about 5 blankets stacked and they must have weighed over 50 pounds all together(no joke). In our straw like room we could hear everyone working on moving Victor's brother's island closer so they can attach the two islands together.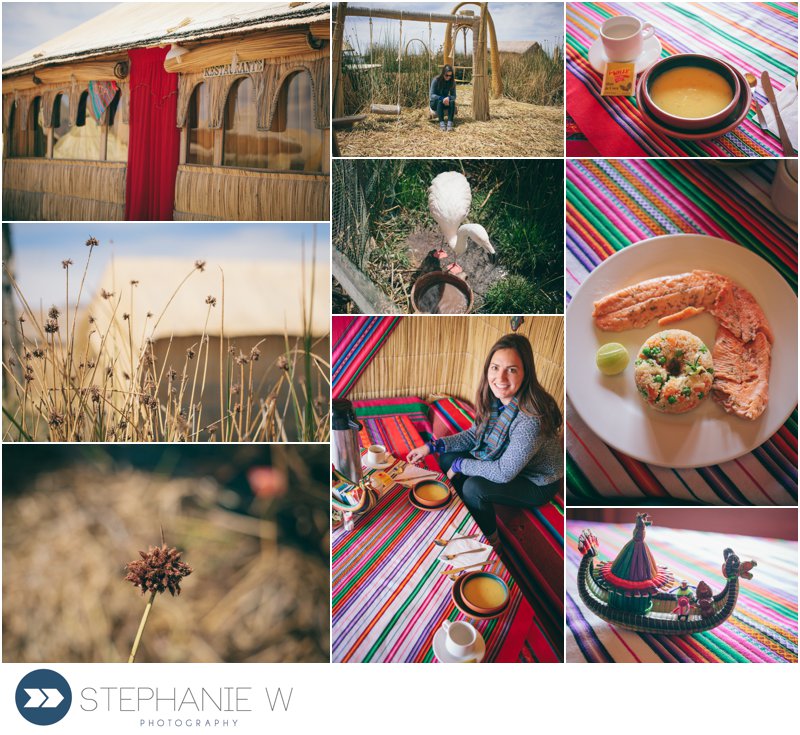 UROS ISLANDS, LAKE TITCACA
The next morning we woke up to breakfast ready for us and got a boat ride back to Puno in time for our bus trip back to Cusco. On the way there we passed a man paddling towards the islands and Victor told us that was the professor on his way to class to one of the elementary schools.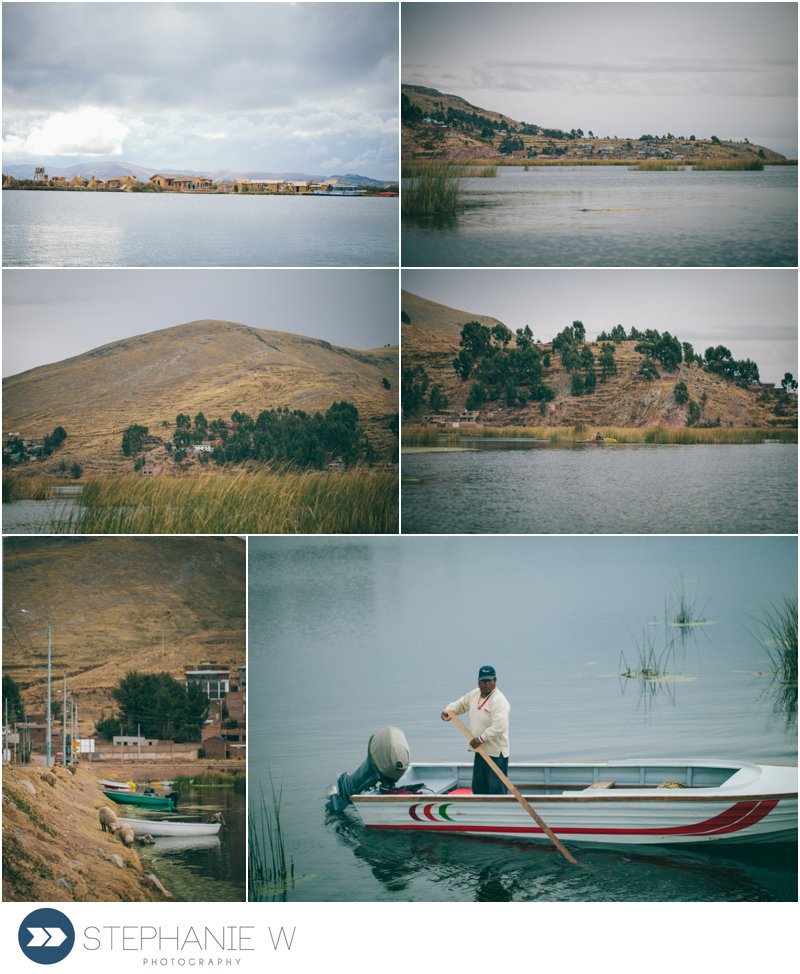 TRIP FROM PUNO TO CUSCO
On the trip back from Puno we were on the second story of the bus with a non-stop ride back. The drivers in Peru have some amazing talent and at times it felt like we were going to tip over.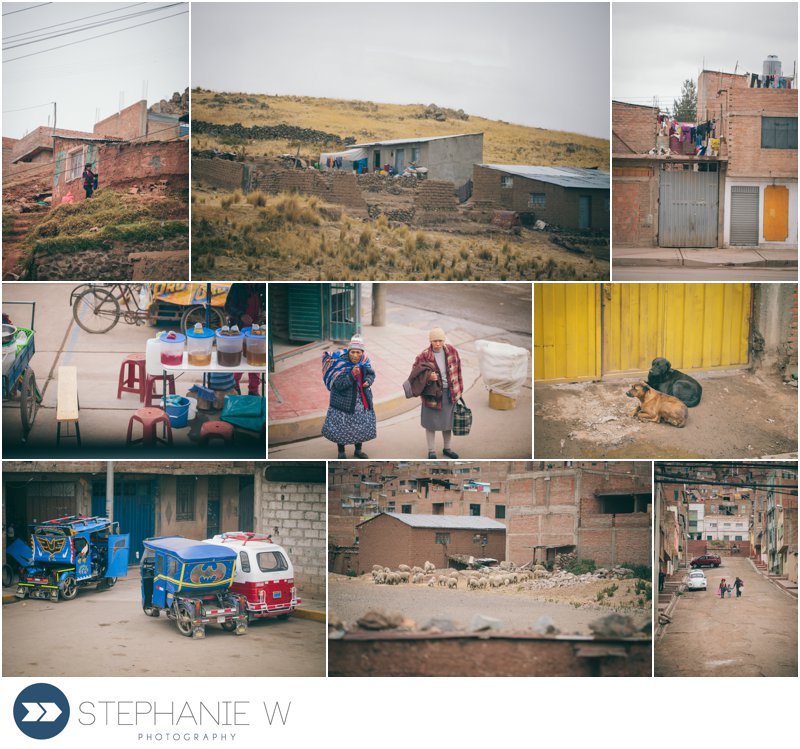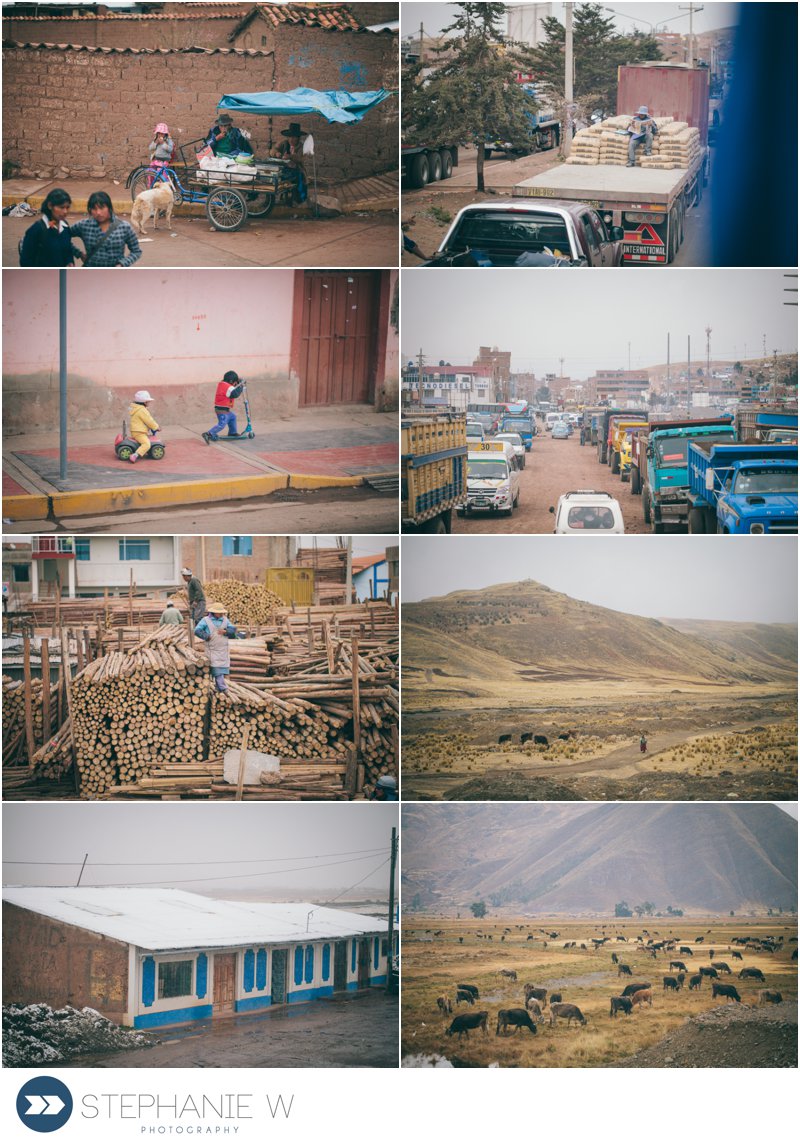 After a night in Cusco, again at Palacio del Inka, we flew from Cusco to Lima overnight to Miami and home to Jax. All in all it was an amazing experience and a trip of a lifetime.
Although we were excited to go to Machu Picchu, our visit to Lake Titicaca was the highlight of our trip. If we could do it all over, we would have spent more time in Cusco instead of Lima since there was so much to see in Cusco.
We're already starting to throw out ideas for our next international big trip…any ideas?? We'd love to hear them.