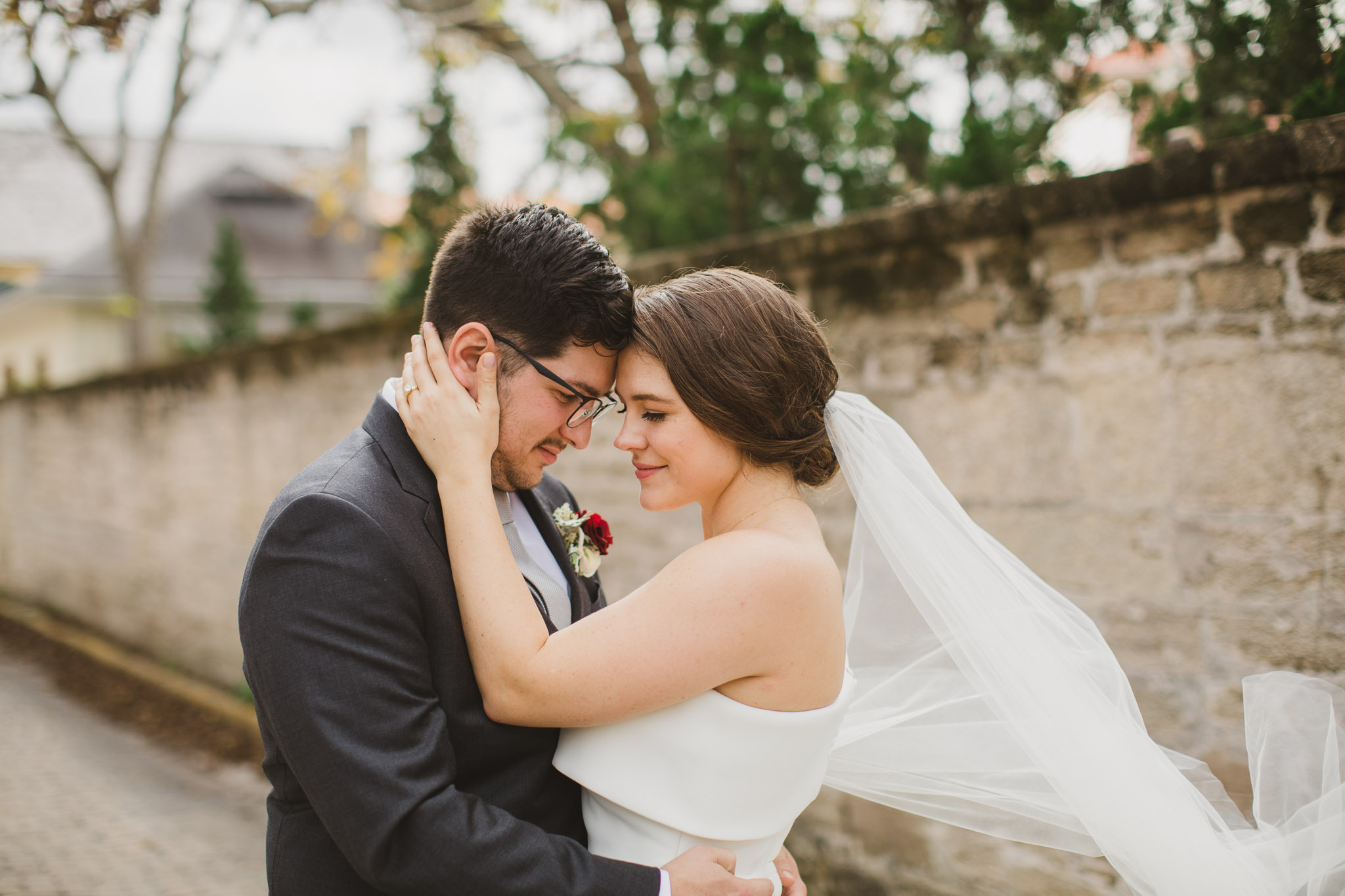 White Room Rooftop and Loft Wedding | St. Augustine, FL | Bailey + Lance
A brunch wedding? YES PLEASE! Talk about my favorite foods (bacon and donuts) together and I'm all about it. It was quite the spread with french toast, eggs, bacon, sausage, omelet station, etc. etc. etc. Ok so the White Room food was top notch but so were the couple. Bailey and Lance have got some style. These two weren't afraid to do their wedding in their own way. That's the way it should always be. Of course they really took their wedding guests into consideration and cultivated a great experience for them as well.
Ok maybe I should start at the beginning of the day ….
I'm going to take a moment to fawn all over this dress Bailey picked out. It was the absolute perfect fit for her. I particularly loved the one should design of it. Then I picked it up to move it for pictures and it was seriously heavy. I had never seen a dress made out of this type of fabric and I actually don't know how to even describe it.
Then I lay my eyes on these fabulous florals. The deep burgundy flowers with white and a dash of pink were stunning. Tula Rose really created a bridal bouquet that wowed.
Moving forward to the Villa Blanca Ceremony details and the Loft and Rooftop reception decor there were some gorgeous touches. I loved the circle welcome sign and the florals in glass terrariums and candle centerpieces the couple chose. Oh did I mention the Groom's cake was the Star Wars Millennium Falcon ship? Sweet Weddings created this Star Wars cake masterpiece! To end the reception the couple wanted a photo with the entire wedding. So we headed to the alley next to the Villa Blanca building and I captured everyone from the second story balcony!
Ceremony: White Room Villa Blanca
Reception: White Room Loft and Rooftop
Planner/Coordinator: Rebecca Grimm
Florals: Tula Rose
Bridal Designer: Chosen by One Day
Shoes: Anthropologie
Cake: Sweet Weddings
Invitations: Minted Weddings